This is what we do! Click the video below
Our Mission
Through the training of rescues becoming a companion or service dog to one of our Veterans and allowing each to create a powerful bond between each other. Giving strength and the perseverance to step outside their comfort zone back into life while dealing with the demons of PTSD and other illnesses. Both Veteran and rescue benefit from a better life.
Our Vision
To continually provide Veterans and rescues alike with the opportunity to heal through companionship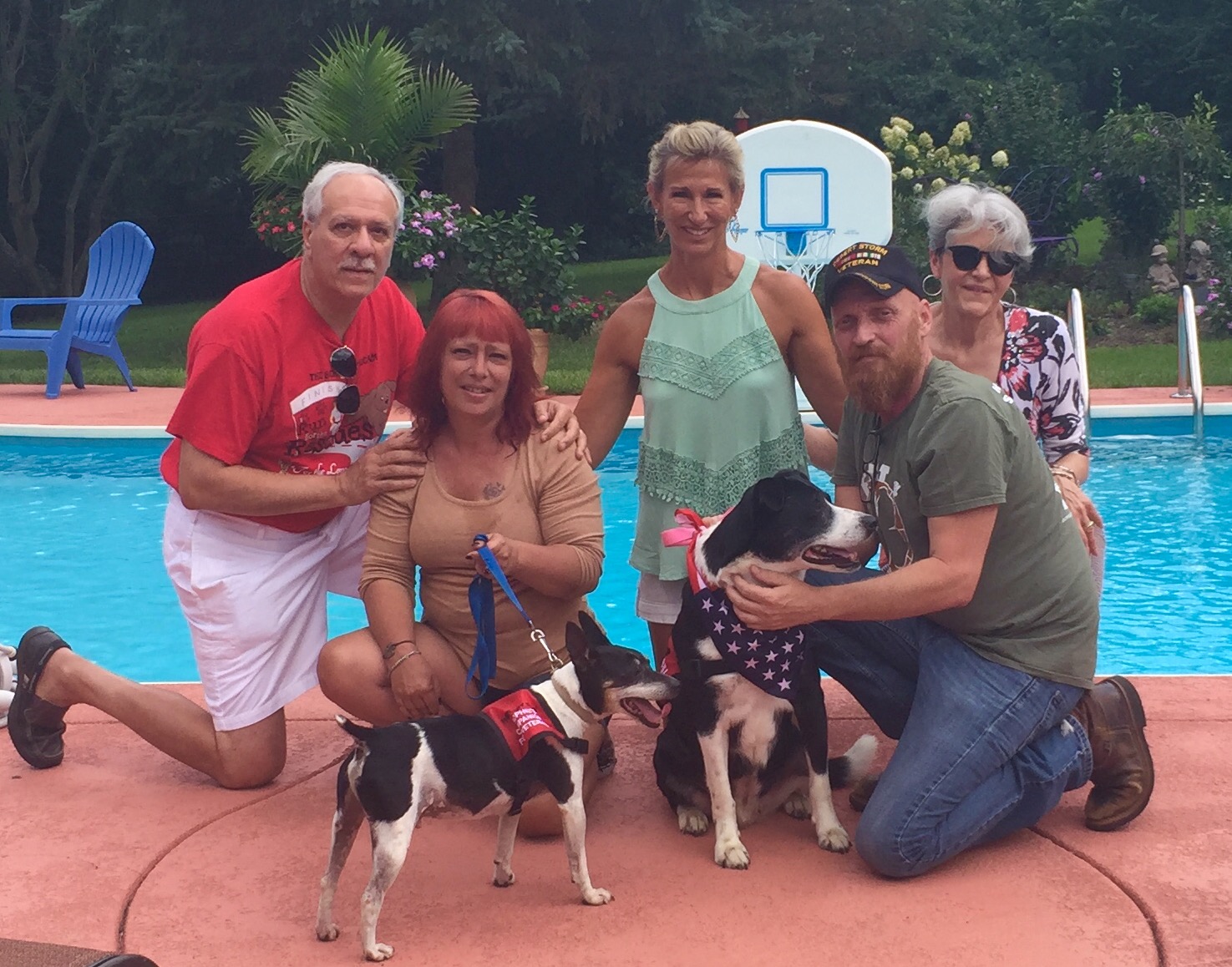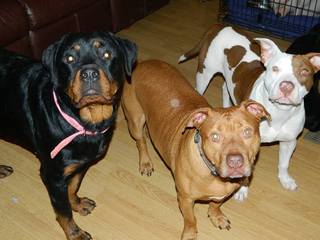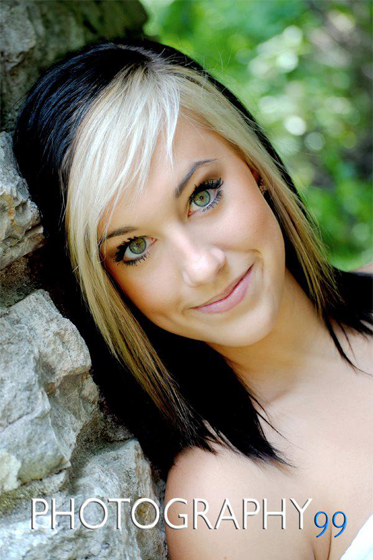 Are you a disabled Veteran interested in adopting one of our rescue animals?
Click the button above to download the pre-adoption questionnaire and mail it to:
Sophies Companions for Veterans Foundation
2212 E. Alex Bell Rd, Dayton, OH 45459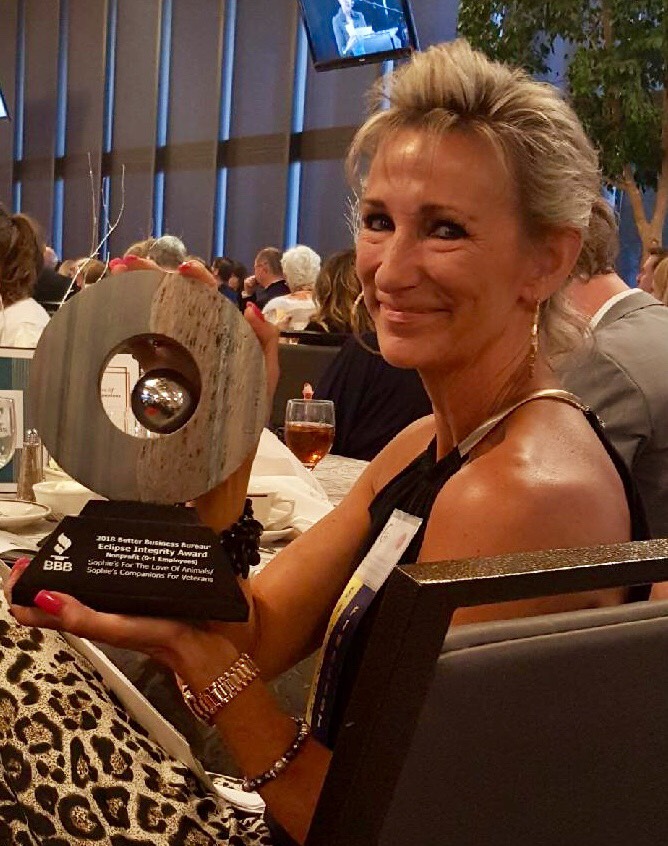 A Note From Our Executive Director and Founder
As Sophie's mom, after my daughter was killed in 2012 to continue her dream, I started the Sophie Kerrigan "For the Love of Animals" Foundation. She was passionate about assisting animals that were abused or forgotten and wanted to help them live a loving and secure existence whether adopted or not. To this day, we have helped over a thousand animals with food, medications, surgeries, fencing and much more. In 2016 another program was added called "Sophie's Companions for Veterans Foundation". This is where we now have the privilege of pulling an animal even minutes before it's euthanized to have it trained to be a companion or service dog for a Veteran suffering from the demons of PTSD and many other disabilities. We have witnessed the power of change in what a rescue can do to alleviate so many of those daily struggles for a Veteran. Sophie's Foundation has proudly received the prestigious Better Business Bureau "Eclipse Integrity Award" due to hard work and determination as well as winning $21,000 from 100+ Women Who Care Organization. Learn More ->
Thank you to the Smith & LaVelle families, friends, The anonymous donor and modern Woodmen for hosting the 4th annual Mouse Memorial Adam Smith Volleyball Tournament. You have raised over $23,000 to help our mission in joining a disabled Veteran with a rescue dog for service. Thank you from the bottom of our hearts.
Thank you to the *Houtz Family Foundation* for their 2020 and 2021 generous donations!
Sophie's Animal Foundation is a two-time winner of the $10,000 CareSource Foundation People's choice award grant. Thank you to Doug Norris and Jeanne Lowe for nominating Sophie's Companions for Veterans Foundation and to all of the employees who voted for us.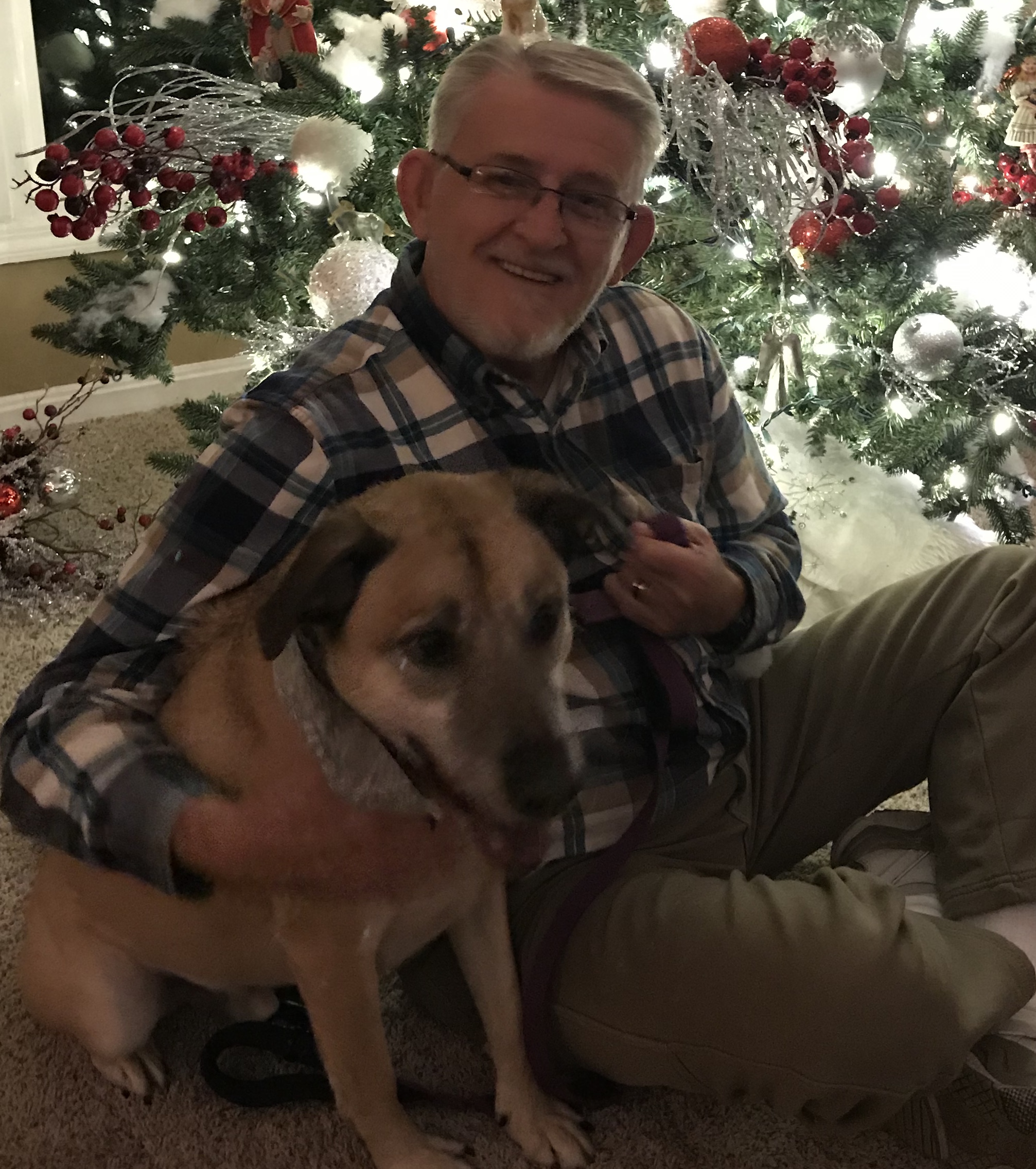 Danny is the new Vice President and Veteran Liaison of Sophie's Foundation
Danny served 3 tours in Vietnam and was a dedicated soldier for 12 years and 3 months.
In memory of Rebecca and Lumpy who have passed.
Rebecca was a Specialist Patriot Missile Crew Member Maintainer for the Army.
She has been presented with Lumpy, a Rat that we adopted from Paw Patrol.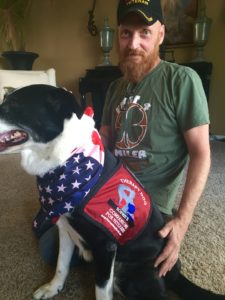 In memory of "Sadie"
Kenneth was a Sergeant/Tank Commander 19K20 on the MIAI Abrams tank for the Army.
He was presented with Sadie, a Border Collie Mix.
Meet Jane and Tony!
They were presented with Gigi, a Pit Bull Mix.
Gigi was adopted by Jane and Tony. Tony is a Veteran that served in the Army 3 years. He was part of the first troops into Bosnia.  Tony and Jane indicated that the former K9 Marine Handler said she is one of the Best dogs she has ever trained and seen.  Gigi has added a huge amount of love, companionship and loyalty to both of our lives.  We love her!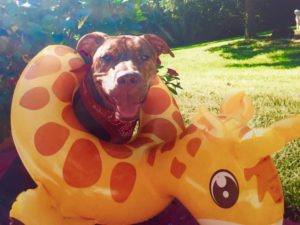 "For the Love of Animals" Janet Carpenter named a Dragon's Community All Star!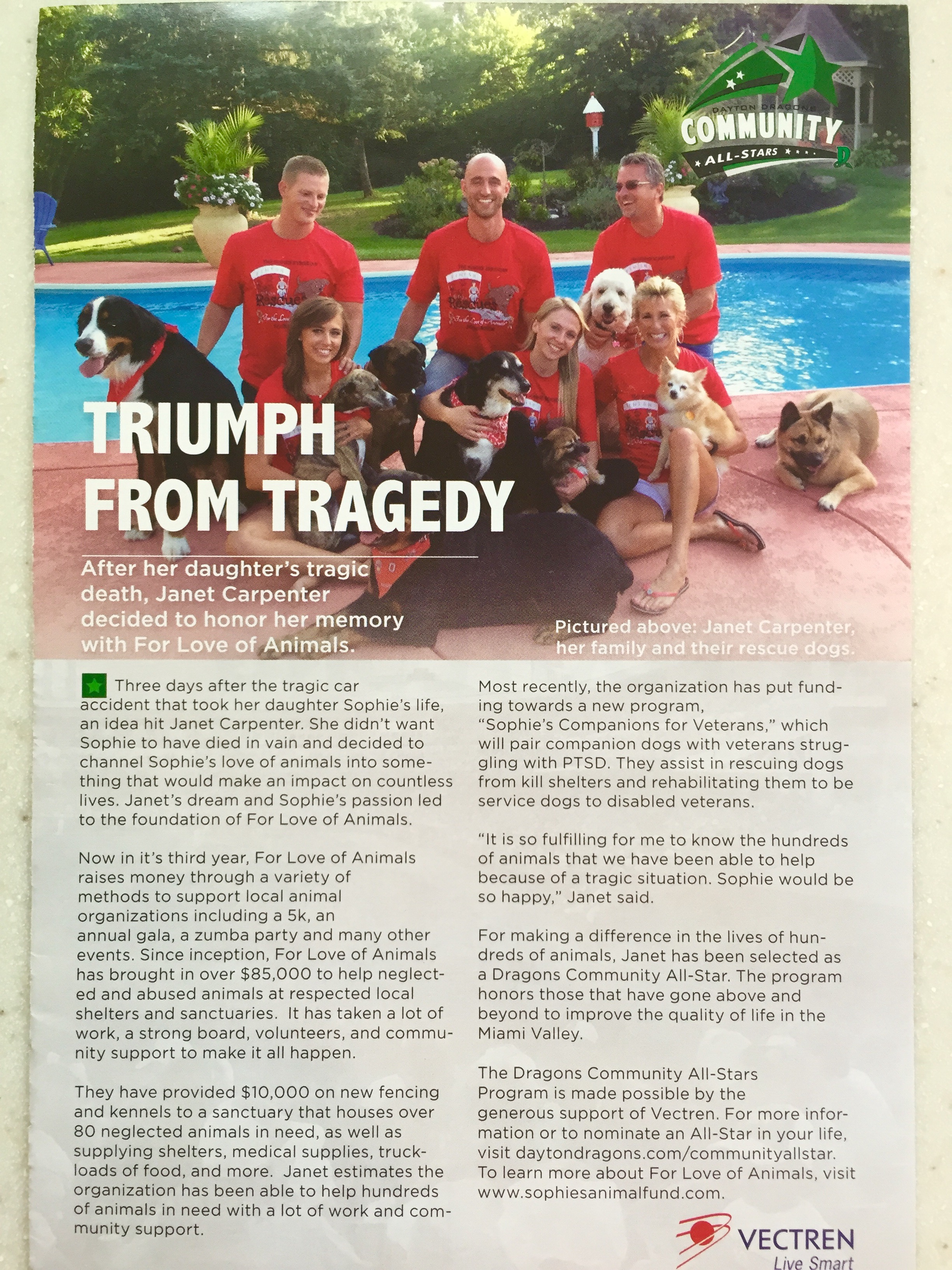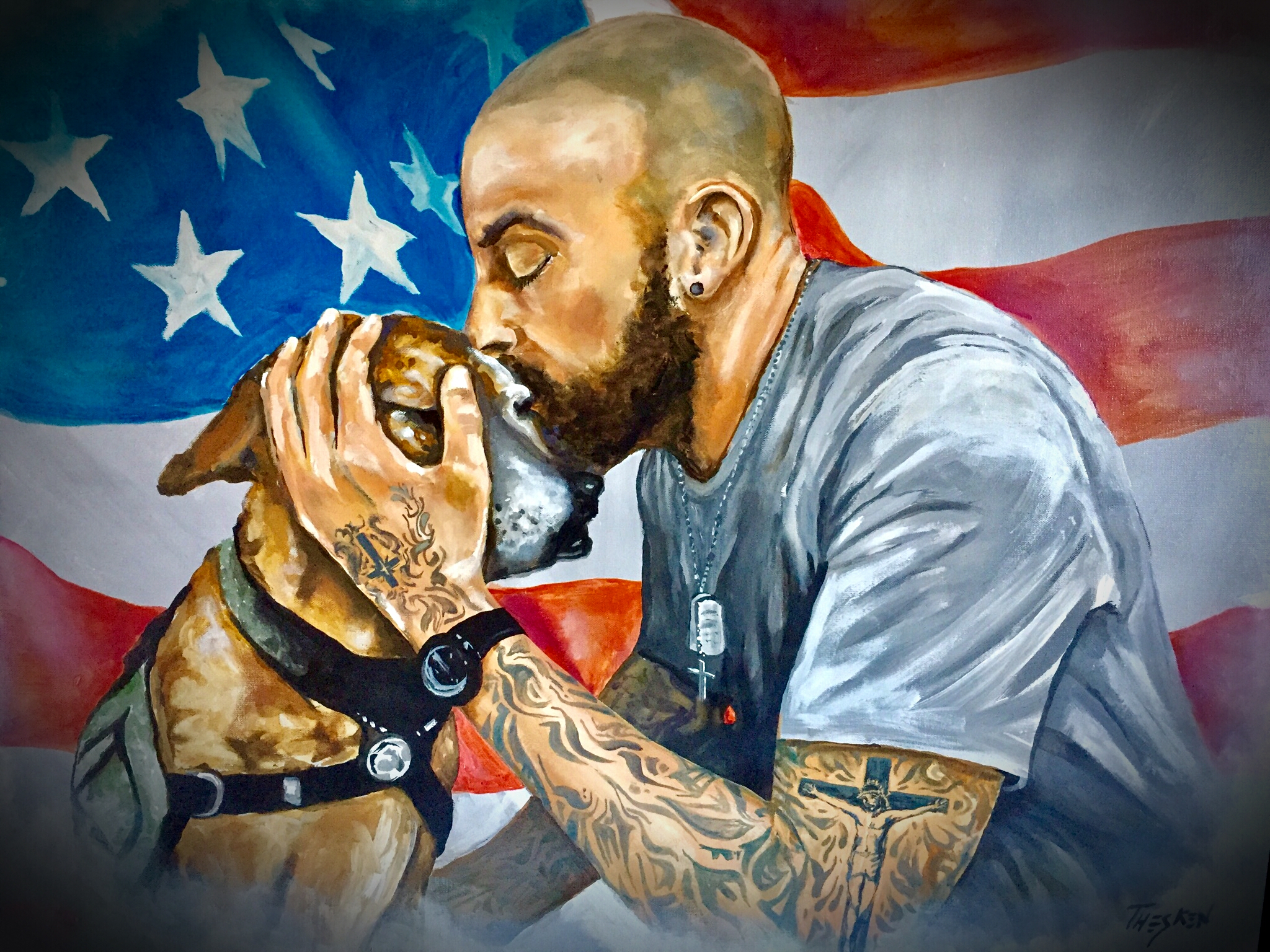 We greatly appreciate donations!
Donations can be sent to:
2212 E. Alex Bell Rd, Dayton, OH 45459
or electronically via PayPal using the DONATE button below.